The GradLink Mentoring Programme aims to develop current students' knowledge of the labour market and their career options by developing nurturing mentoring relationships with alumni. It is a great way to start thinking about career options, so third year (Junior Sophister) students studying one or more subjects in the departments of economics, philosophy, political science and/or sociology are strongly encouraged to participate.
What's involved for students?
If you are unsure what to do after College, need help sorting out your CV or LinkedIn Profile or are interested in finding out more about a particular job or sector then the GradLink Mentoring Programme might be just what you are looking for.
The launch event, which took place on 20 October, 2015, was an excellent opportunity to meet graduates working in fields as diverse as banking, business, technology, consulting, public relations and public service.
At the launch event graduates gave an overview of their career and what they can offer as a mentor. Afterwards there was a reception where students had the opportunity to meet the graduates and find out more about their careers and expertise. Students who were interested in being mentored, signed-up at the launch and attended follow up meetings where they were assigned their mentor. Participating in GradLink involves meeting with a mentor 2-3 times, over the course of the academic year, to find out more about their work and to discuss the student's career development.
What's involved for alumni?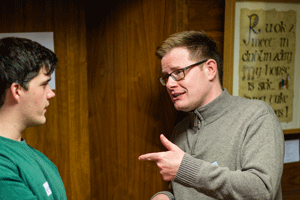 We are delighted that over 20 graduates of economics, philosophy, political science and/or sociology graduates, with 3+ years professional experience, will be taking part in the 2015/2016 GradLink Programme.
As a mentor graduates work with a small group of students (up to three per mentor) who they meet up to three times during the programme. The focus of these meetings is generally professional development and other career-related topics. The time commitment of the programme for mentors is approximately 10 hours, inclusive of the launch event.
"I was delighted to be asked to be part of the GradLink Mentoring scheme. I loved my years in Trinity and this was a great way of giving back and helping current students. My student was very capable and bright but it can be hard to know where to find experience, what areas offer the most opportunities and how to perfect a CV. Being able to help and share your insight can make a real difference to students in getting started with their career." — 2014/2015 GradLink mentor
2014/2015 GradLink Mentoring Programme
Our 2014/2015 pilot GradLink programme was a great success and this was due in large part to the exceptional calibre of the mentors. Students had the opportunity to choose mentors who are pursuing careers in business, technology, marketing, journalism, public service and the voluntary sector and who are currently working for employers such as Goodbody Stockbrokers, Google, Department of the Taoiseach and Proctor & Gamble.
Students benefitted enormously from the exchange of ideas with alumni and gained useful insights into how they can best manage their career development.
"Amazing Programme! Thank you for introducing me to my mentor. She has been extremely helpful in re-jigging my CV, recommending employment opportunities, helping me to write cover letters, prepping me for interviews etc. I have secured one summer internship, at least one other interview so far, and have applied for 5 other positions that I would not have known about without the help of my mentor. I would highly recommend this programme and think every student should know the benefits that it has to offer. Thanks again for everything!" — Economic and Social Studies (BESS) student

"I am interested in working in the media and journalism in the future and my mentor encouraged me to start writing a blog, which I did and it became quite successful and I gained a lot of confidence in myself and my writing abilities. I then went on to submit articles to an online newspaper that are aimed at the student population. Upon doing this the articles were published on the website. I have also been offered an internship with this online newspaper as an in-house writer for their website this summer. I could not have achieved all of this had I not attended the Gradlink programme and met my mentor who gave me a push in the right direction." — Sociology and Social Policy student
Additional Information
The Gradlink Mentoring Programme is run by the School of Social Sciences and Philosophy, in conjunction with the Trinity Alumni and Development Office and the Careers Advisory Service. Please visit the following websites for more information:
Or email the School's GradLink Coordinator Helen Murray at sspalum@tcd.ie